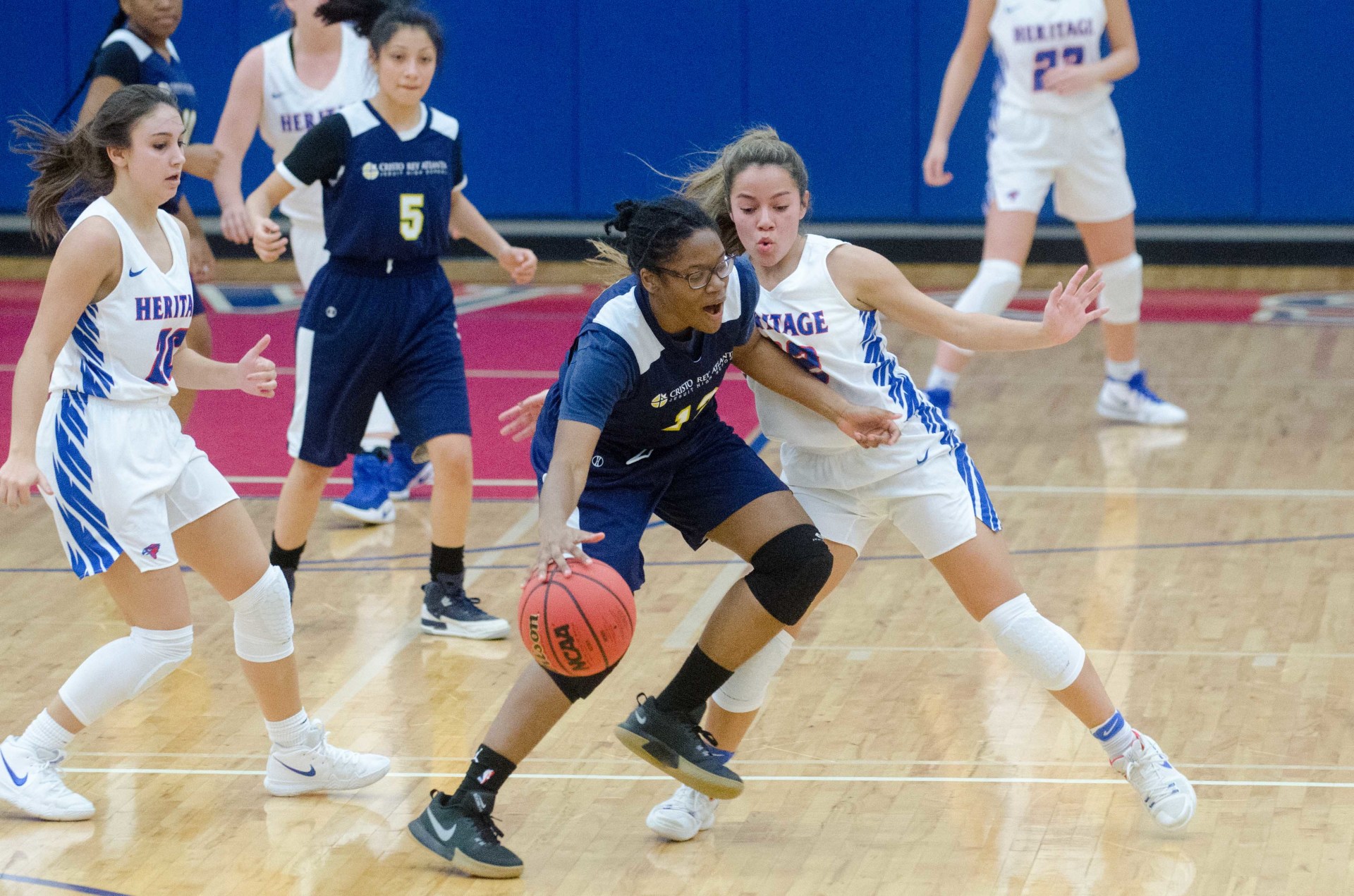 Lady Hawks senior guard Carissa Vazquez blocks the path of a Cristo Rey player during the first half of a 44-20 victory. Heritage's girls shut out the Lady Flames for the first 12 minutes of the game, with Vazquez scoring a game-high 12 in the victory.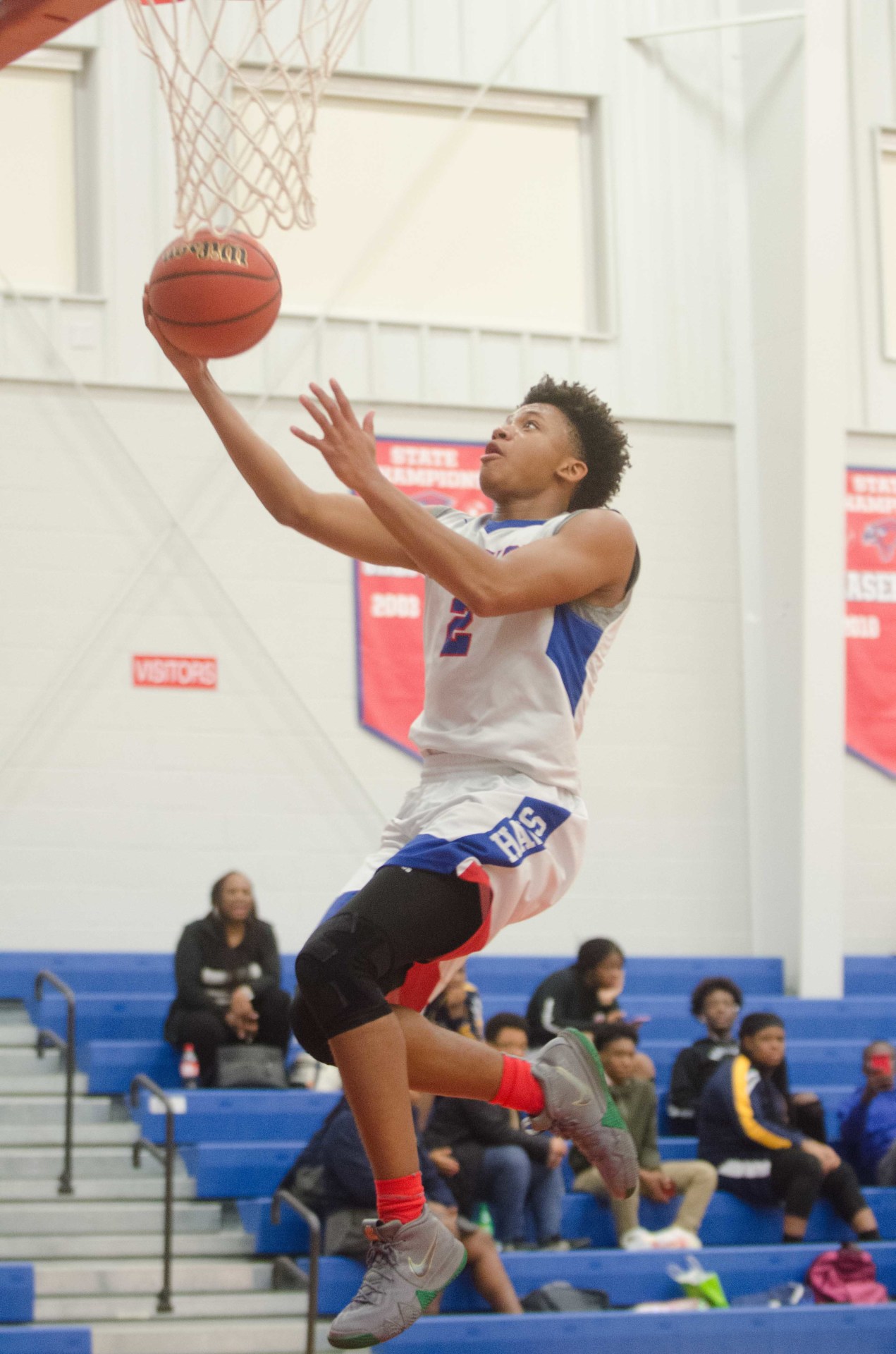 Heritage School was a less than gracious host to GISA Region 1-AAA newcomer Cristo Rey on Friday, clamping down hard defensively and cruising to lopsided wins.
The Lady Hawks held Cristo Rey's girls scoreless for 12 minutes en route to a 44-20 victory.

Heritage's boys followed by scoring the opening nine points of a 63-23 rout that had the Hawks combining on 10 three-point shots to also stay perfect in region play.
Both home lineups led comfortably by the half and went deep to respective benches in offensive efforts that had nine players from each contributing points.
Senior Carissa Vazquez led the Lady Hawks with a 12-point performance that included three-pointers in each of the team's first three quarters. A seven-point surge by senior Tricia Underwood in the second helped Heritage take a 23-6 advantage into the break.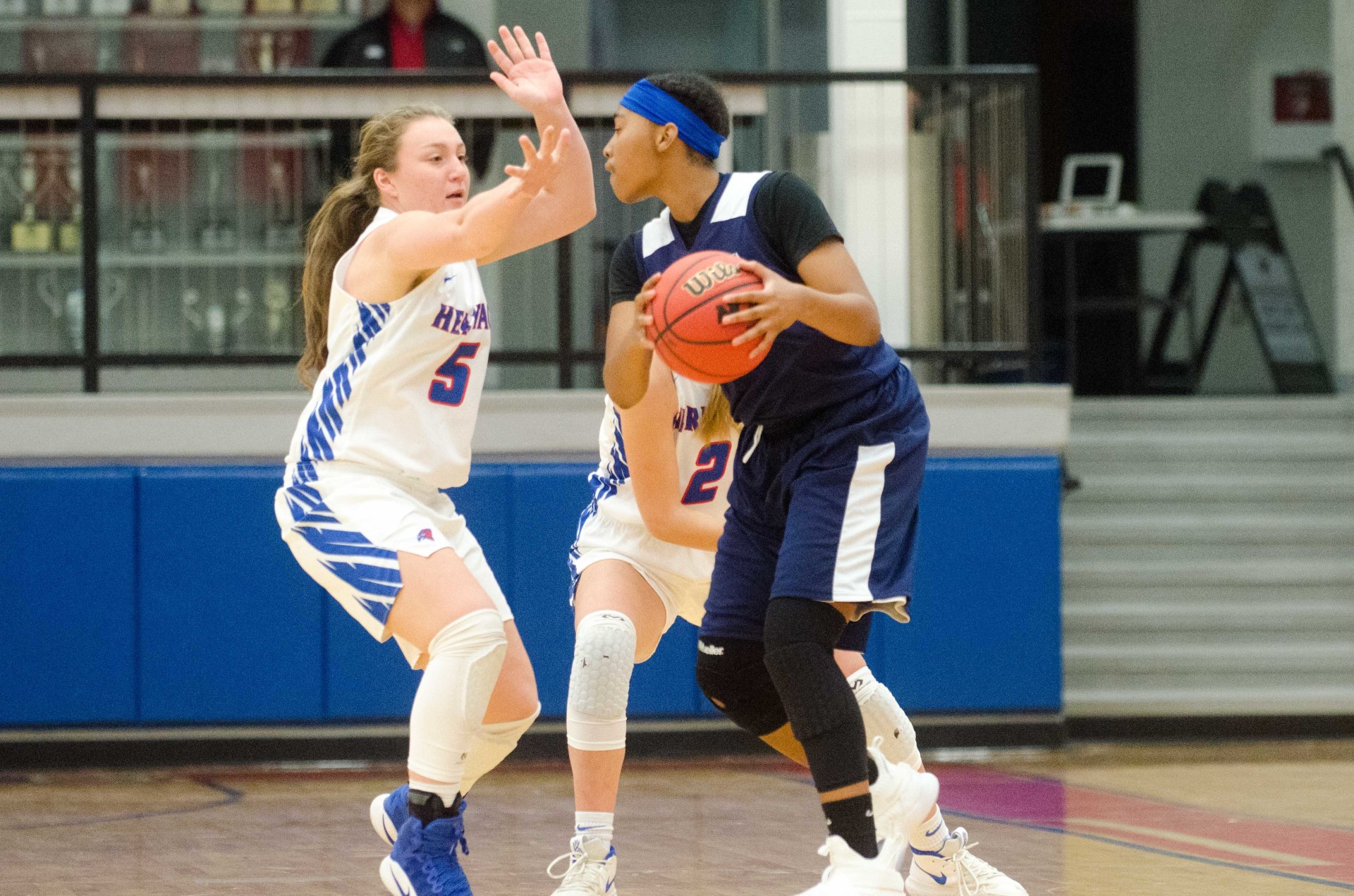 Aliyah Ferrell and Zada Smith each added five points including one of the Lady Hawks' five three-pointers.
Smith's trey that pushed a 35-12 lead in the third came on a sequence where the ball touched all five Lady Hawks players on the floor in transition on four consecutive passes off a Cristo Rey turnover in Heritage's end.
Senior Adria Pierce closed out the quarter with a driving layup to take a 38-16 lead into the final period.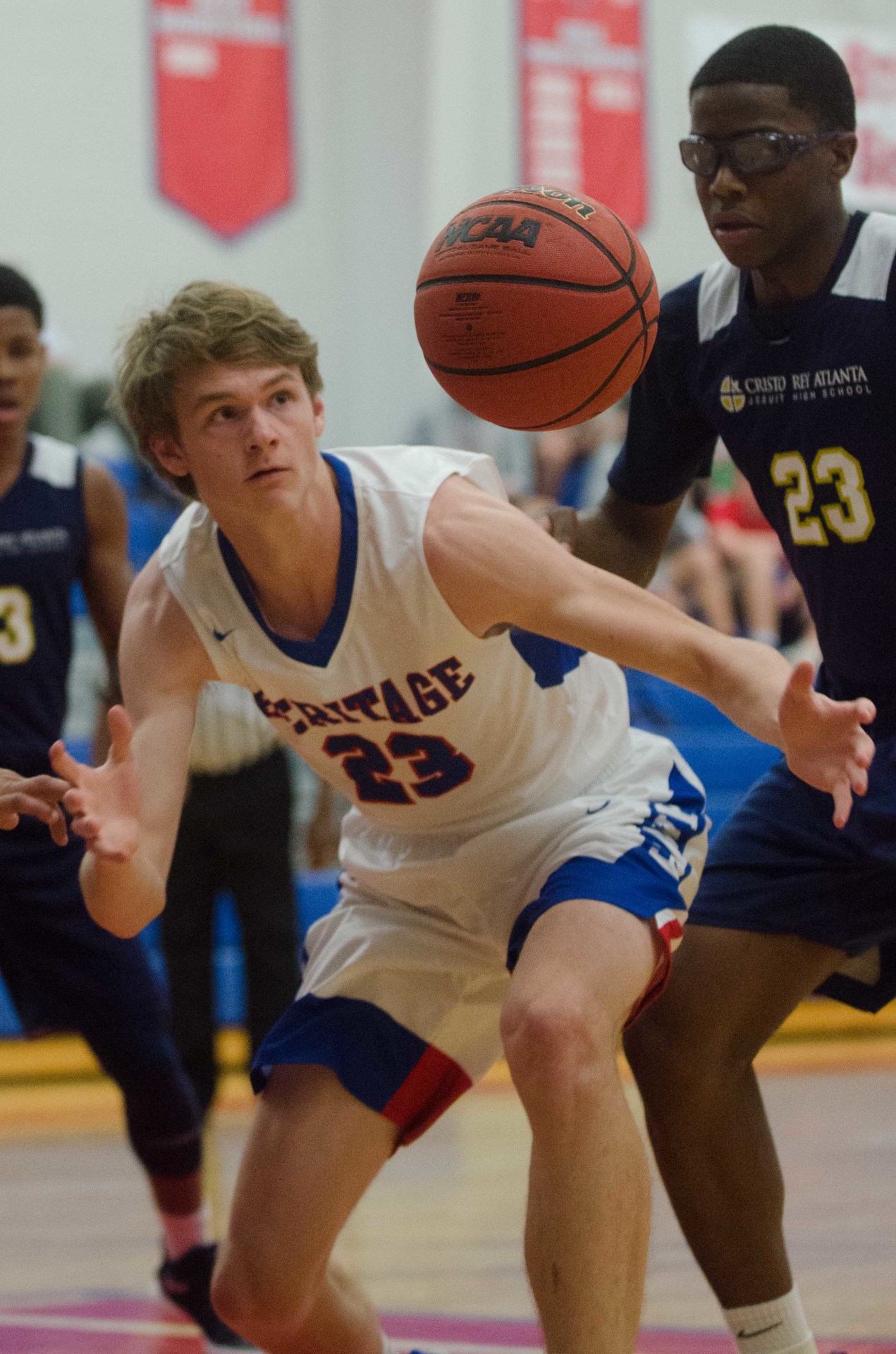 Olivia Ayers added two free throws in the third to close out a six-point performance.
In the boys victory, junior point-guard Kasen Jennings had all 13 of his points before halftime as the Hawks jumped well out in front 39-8.
Six Heritage players contributed field goals in the opening quarter, which included a pair of three-pointers from Jennings to go with ones from Dylan McLean and Grant Evans.
Evans' shot from the left corner beat the first-quarter buzzer to polish off a 20-5 run to open the game.
Jennings could do no wrong, even when he looked to have injured an ankle midway through the second quarter. But he quickly returned to the floor to take a feed from McLean for a breakaway layup and then had a dunk attempt still manage to find the hole after it ricocheted upward off the back rim.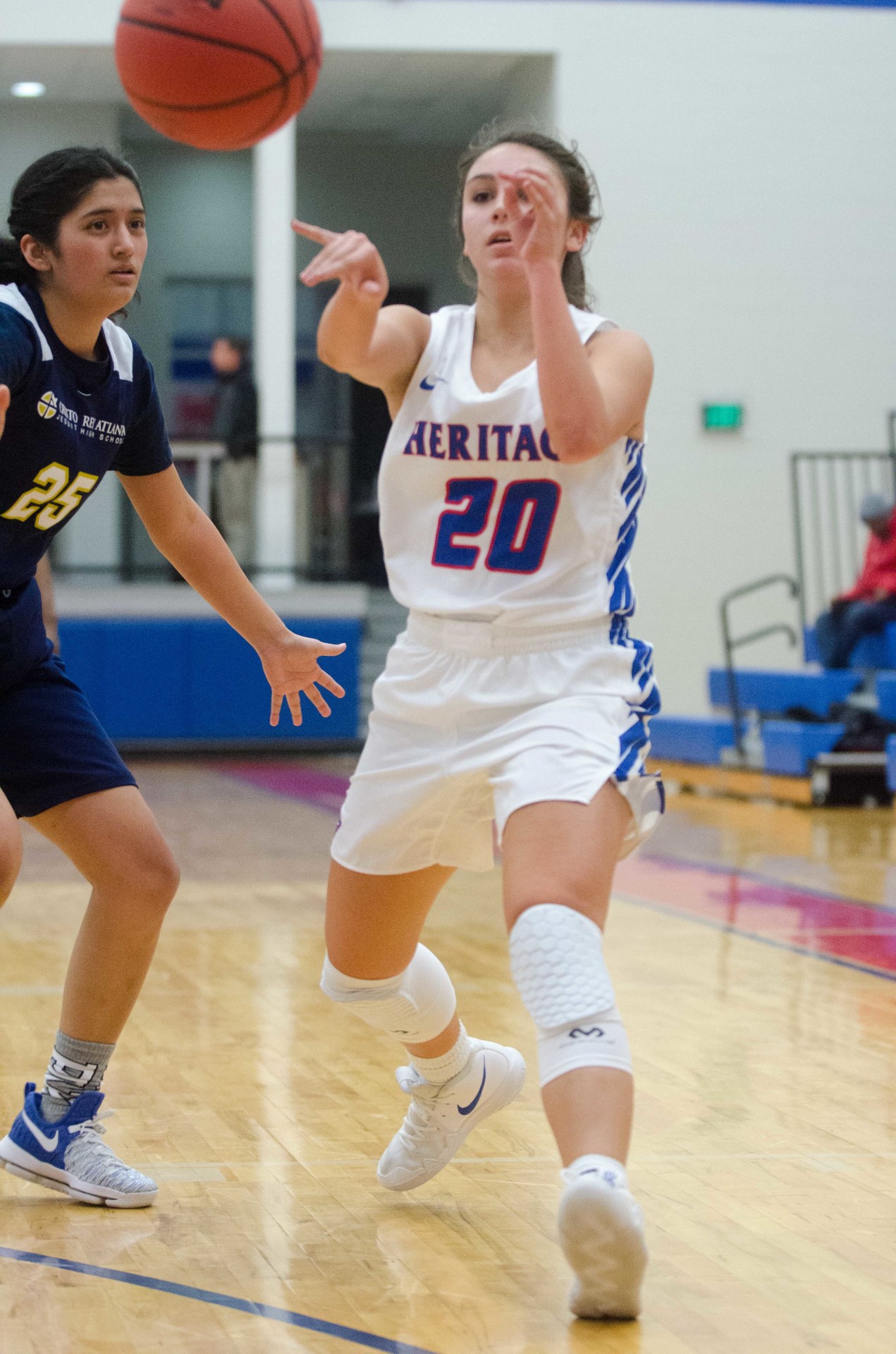 It was a night where everything seemed to go right for the Hawks, who had six of their 10 three-pointers in the opening 12 minutes. Lance Terry added a pair early in the third before heading back to the bench with starters while matching Jennings' 13 points to help lead the way.
McLean paced the win with nine points, all of which before halftime. Connor Thompson had five of his six in the second quarter while connecting on apair of baskets along with Jennings and McLean in the period.
Heritage dominated Cristo Rey early while getting help from Patrick Griffies' four rebounds in the first half. The senior added all five of his points in the fourth quarter.
Evans also finished with five, while EB Dowona and senior Gridley Pendergrast added four apiece.
In other basketball action
Newnan girls 58, Callaway 29: The Lady Cougars added their second straight win at home this week while continuing to build momentum from Tuesday's effort against Wheeler.
Stepping out of Region 2-7A, Newnan finished with three players in double figures led by senior Hailey Bloom to even its overall record at 4-4.
A homestand continues next week with a non-region game Tuesday against Griffin before hosting county rival East Coweta on Friday in a return to region play.
Bloom had a team-high 19 points and added six rebounds, six steals and four assists to lead the way on a night where she later connected from half-court during a contest in between the boys game to win free Chick-fil-A.
Freshman Joy Butts added 18 points to go with three rebounds, two assists and a steal while pacing the offensive effort.
The Lady Cougars equally continued to receive impressive efforts from sophomore point-guard K.K. Madrey. Coming off a 20-point outing in Tuesday's win, the LSU softball commit chimed in with 11 points, nine rebounds, five steals and four assists.
Senior Noelle Butts, meanwhile, matched Bloom's six steams for the team lead for Newnan while also adding eight points and five rebounds.
Newnan boys 68, Callaway 42: The Cougars bounced back from a tough loss against state-ranked Wheeler in Tuesday's region opener.
Newnan, which improved its overall record to 3-4, jumped out to a 20-9 lead and equally finished with a flurry in a 26-point fourth quarter.
The Cougars built leads of 28-25 at halftime and 42-32 at the end of three quarters before pulling away.
Northgate boys 47, Temple 41: Despite struggling from the free-throw line, the Vikings stayed on course while improving their overall record to 4-2 with help from a 10-point run in the third quarter led by six of Dillon Wade's 10 points.
Down 23-22 at halftime, Northgate stepped up defensively to limit the Class 2A Temple (3-2) to five field goals over the final 16 minutes of play.
Northgate missed 20 free throws but managed to pull through with its second straight win this week after defeating Pike County (0-4) on Tuesday in Zebulon.
Jonah French's early three-pointer in the first quarter paced a team-high 16-point performance, while Dillon Wade stepped up after halftime to score all 10 of his points in the final two quarters.
Wade came through in the clutch with three straight baskets, the latter putting Northgate back in front 31-29 in the third as the Vikings outscored Pike
Zach Tolbert added a pair of early baskets to help push the Vikings ahead 10-9 after one quarter.
Temple girls 46, Northgate 15: The Lady Vikings lost their third consecutive game in their lowest offensive output of the season.
Temple continued a hot start to 2018-19, improving to 4-1 overall.
Northgate fell to 3-4.
Heard County girls 39, Trinity Christian 33: The Lady Lions came up short in a non-region game at home while falling to 2-5 overall.