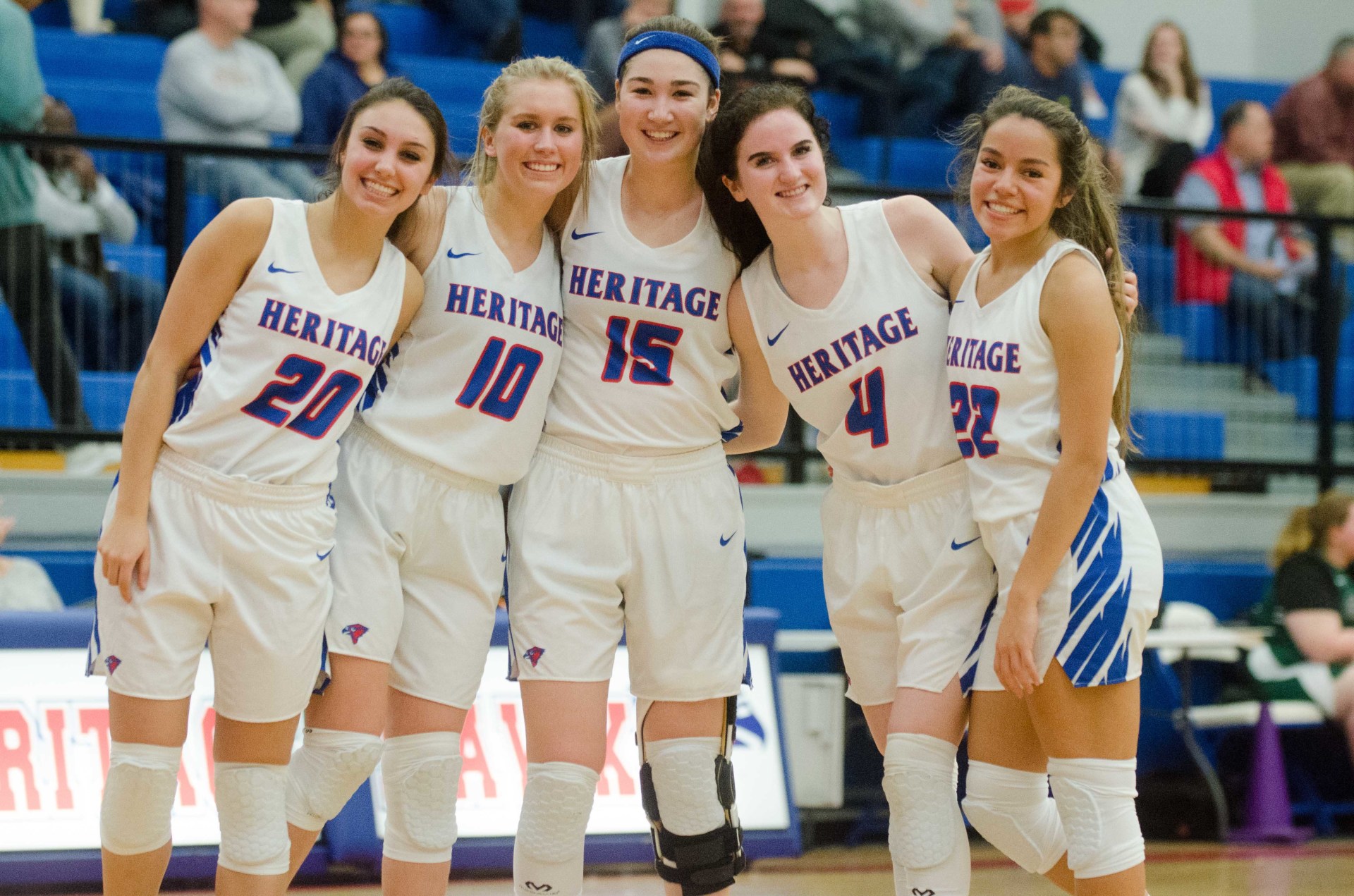 Heritage School's girls basketball team rallied from a 10-point deficit in the fourth quarter to defeat Deerfield-Windsor 37-35, while advancing to Friday's GISA quarterfinals. Seen above, from left, are seniors Tricia Underwood, Frances Powell, Emily Cushing, Adria Pierce and Carissa Vazquez. Underwood scored five unanswered points to close out the win, starting with a game-tying three pointer.
MILLEDGEVILLE — Down 10 points after three quarters and its 2018-19 season on the line, The Heritage School's girls basketball team did what head coach D.J. Clay's lineups have come to be known for best, buckling down on defense in the final quarter of its first-round GISA Class AAA tournament game against Deerfield-Windsor.
And with the Lady Hawks clamping down, the points that were challenging to come by in the first half, emerged at the finish of a 37-35 comeback win that had senior Tricia Underwood connecting for two clutch shots in the closing minutes.
Underwood first hit a game-tying three-pointer off a perfect feed from teammate Aaliyah Ferrell with the two both needing to step up to help Heritage School (19-5) offensively.
On their next possession, Underwood then hit a final basket for the eventual difference-maker in a clutch win for this year's Region 1-AAA runner-up against Deerfield, the No. 3 seed from Region 3-AAA.
The Lady Knights closed the regular season as the No. 2 seed from 3-AAA, but dropped their region playoff opener to Brookwood 62-58. They won the consolation game 56-41.
Heritage, however, has only lost one game this season when holding an opponent under 40 points. The Lady Hawks, who have lost three of their five games to defending GISA champion Holy Spirit, are holding teams to just over 26 points-per-game on average.  
In a state-playoff game hosted by John Milledge, Heritage was forced to chase a deficit for the majority of four quarters, trailing 12-7 after the opening period. A five-point deficit remained at halftime with senior guard Carissa Vazquez scoreless while battling foul trouble.
Underwood and Ferrell helped pick up the slack en route to 13 and 12 point performances, respectively. Ferrell scored five in the first and Underwood connected for a pair of field goals in the second to contribute four of Heritage's six points in the period.
Deerfield doubled its lead in the third, taking a 31-21 advantage into the final period. The Lady Knights, however, failed to cash in from the line in the first half, connecting on just 4 of 11 free-throws as the Lady Hawks stayed within range.
Deerfield (11-7) never came close to getting a shot off prior to the buzzer, turning the ball over to Heritage multiple times. It forced the team to foul Heritage's Kendall Stephens in the closing seconds.
Rachel Bonner led the Lady Knights with 11 points and Caroline Speir added nine.
Heritage's girls advance to Friday's state quarterfinals as the GISA tournament shifts to Stratford Academy. The Lady Hawks will face an underdog Frederica team that knocked off Region 4 champion John Milledge 35-19 on its home floor in a 7:30 p.m. tipoff.
Heritage and defending Class AAA champion Holy Spirit were the only teams from Region 1 to advance to the second round. Holy Spirit, which defeated Tiftarea (No. 3, Region 4) 63-48 plays Region 4 runner-up Westminster-Augusta at 3 p.m.
The other girls quarterfinals included Region 2 champion Pinewood facing Region 3 runner-up Brookwood, while Region 3 winner Southland faces Region 4 No. 3 seed Augusta Prep.
Heritage School's boys have the chance to host its first-round game after capturing the Region 1-AAA title in an overtime thriller against nemesis and two-time state champions Holy Spirit.
The 18-9 Hawks, led by Lance Terry's 34 points, celebrated a 80-79 victory on Kasen Jennings' clutch three-pointer at the buzzer to negate a 41 point performance by Holy Spirit's Anthony Edwards, who made national headlines on Monday after the five-star recruit announced he was signing with the University of Georgia.
Heritage also faces Deerfield-Windsor, the No. 4 seed from Region 3-AAA, in a rematch from a non-region game on Jan. 26, at THS won by the Hawks 55-36.